Welcome to the English Department at the Faculty
of Letters and Foreign Languages University of Tlemcen
English has long been one of the most important departments in the Faculty of Letters and Foreign Languages. Since 1989 till 2014, the Faculty knew different organization charts. Recently, the Foreign Languages Department has been restructured and the English Section has become an independent department including Translation.
With 63 fulltime teachers and 1232 students (graduation) the English Department offers a variety of modules basically related to two specialties: Literature and Civilization plus Language Studies divided in different modules. Students are instructed to teach English at all educational levels and trained to use translation techniques.  The different degrees offered by the Department allow not only to fit directly into workplaces, but also to give access to various masters and doctorates research projects. The Translation Section offers a Master in Tourism and Cultural heritage.
Department Directory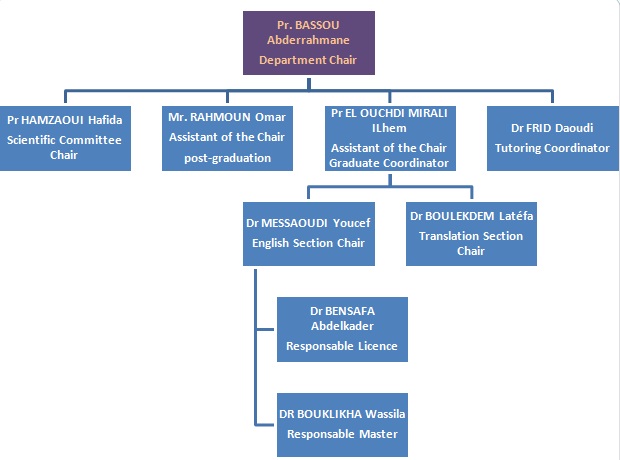 Scientific Committee
Following the Executive Decree No. 03-279 dated on August 23, 2003 as amended and supplemented by Executive Decree No. 06-343 dated on September 27, 2006 the election of the Scientific Committee of the Department took place on September,10th 2014.
Grade                                Function                                                                  Names
Professeur                    Scientific Committee Chair                     HAMZAOUI Hafida
M.M.A                                departement chair/ Member-           BASSOU Abderrahmane
Professeur                           Member                                                  BENMOUSSAT Smail
Professeur                           Member                                                      DERRAGUI Zoubir
Professeur                            Member                                                      SERIR Ilhem
M.C.A                                    Member                                                      DENDEN Zoubir
M.C.B                                    Member                                                     MOUHADJER Noureddine          
M.M.A                                  Member                                                     BEBBER SOUAD
M.M.A                                  Membrer                                                    CHABANE SARI Zoulikha
Tutorial
The Tutoring Cell of the Department has been launched starting from the academic year 2012/ 2013 with an outstanding team composed of 20 tutors. Their mission is to guide first year students in their rapid integration inside the university environment which permits them to obtain better results in their studies.
List of Tutors
Frid Daoudi /MCB Tutoring Coordinator
DR HEDDAM Faiza
Mr Khelladi Mohammed / M.A.B
BENMANSOUR Ismail
SIDI Mohamed Ziane