-
OVERVIEW
Arts department was established in 2008, and it is one of the departments that have accompanied the emergence of L.M.D system. The number of students section about 500 students in graduation.
It contains one section, section of Arts and two specialties,
  - Plastic arts, adopted in 2008.
  -Theatrical presentation  adopted in 2010.
Also there are two main domains in master:
 - Plastic arts studies 
  - Theater of Maghreb
The department contains two doctoral specialties - Graduation Post Section -:
* Studies in plastic arts.
* Theater criticism.
Department Directory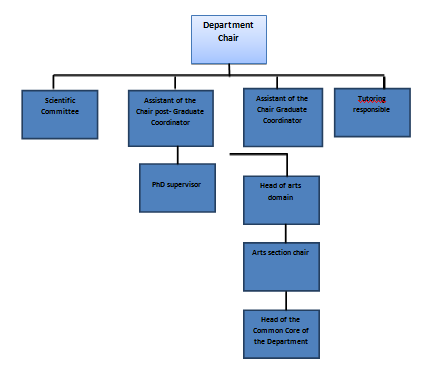 The scientific committee of the arts department: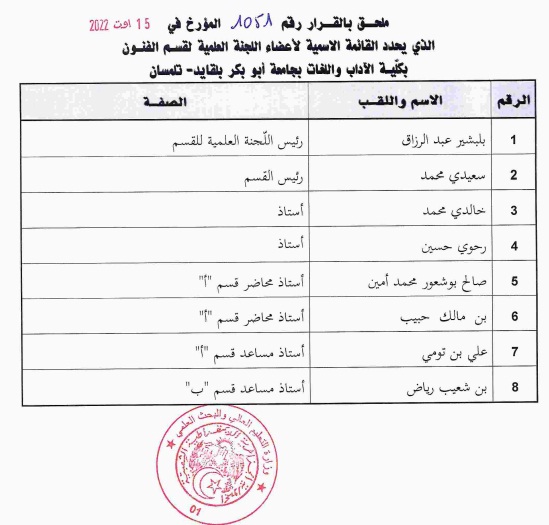 Tutoring cell:
The tutor responsible: D. Dahhou Mohammed Amin.
1- D. Rahwi Hussein - Conference Professor
2- Bouzar Habiba - Conference Professor
3-Guellil Sarah- Assistant Professor B-
4- Khwani Zahra- Conference Professor-
5- Tarchawi Belhadj- Professor of Higher Education-
6- Saleh Boshour Mohammed Amin - Conference Professor-
7- Ben Abagi Laila- Assistant Professor B-
8- Nasser Amina - PhD student-
9-Boukhari Soumia - PhD student-
10- Zafan Youssef- PhD student-